19-09-2014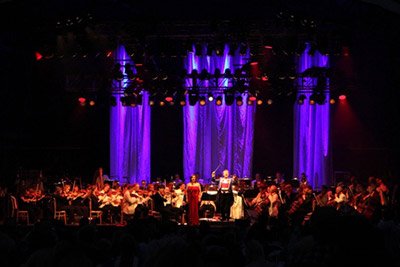 Bristol based lighting and visuals rental specialist Fineline supplied lighting, LED side screens complete with new bespoke supporting structures and an IMAG camera package for Warwick Castle's 1100th Anniversary Summer Proms Spectacular - a music, fireworks and pyro extravaganza to celebrate the founding of the Castle.

The Medieval castle standing today was developed from an original built by William the Conqueror in 1068.

The two day Summer Proms event saw 8500 people enjoy Paul Weller rocking the house on the Friday night supported by White Room and The Gramotones, and a programme of popular classics performed by the City of Birmingham Symphony Orchestra (CBSO) on the Saturday, conducted by Jae Alexander … plus special guests.


Fineline's Rob Sangwell comments, "We have been involved in this event for many years and it was a great pleasure to be doing it again this year. Each year we aim to bring a fresh and different approach to the visuals".

Fineline's production lighting design also incorporated Paul Weller's own touring lighting scheme which was created by Dan Hill and they augmented the house lighting rig with their own floor specials package.

The starting point for the 'house' rig was the Serious Structures 16 metre Supernova stage from which Fineline's crew, led by Wingnut, sub-hung their trusses. The design offered the flexibility of being able to morph from rock pop to classical pop.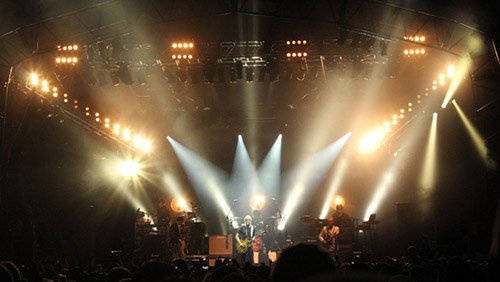 Rigged to Fineline's trusses were Robe LED Wash 600s, Robe 100 LED Beams and Robe ROBIN 600E Spots for moving lights. These were joined by MTC-B2 LED Battens and a selection of generics – PARs, Source Four profiles and blinders.

The front and rear trusses were connected with multiple trusses running upstage / downstage and the whole trussing structure was raked to match Paul Weller's raked side trusses – which were part of their incoming floor package.

For control, Fineline supplied an Avolites Pearl Expert plus Avo ART dimming, and joining Wingnut on the lighting crew were Tim Williams and Rachael Moule.

Rob Sangwell co-ordinated the installation of the two side-stage IMAG screens which were made up of Lighthouse R7, each measuring 6 metres wide by 4 metres high. He worked with crew members Stuart England, Martin Jacobs and Will Dale.

The screens were supported by two of Fineline's new bespoke support structures, which in this case were 9 metres wide by 9 high. These are a completely new product designed by Fineline using James Thomas 52 cm SuperTower trussing stabilised by ground anchors.

Using ground anchors dispenses with the need of unsightly concrete or water ballast tanks – not only are they hugely more aesthetically pleasing, but they are also quicker and easier to install as well as to transport to and from site.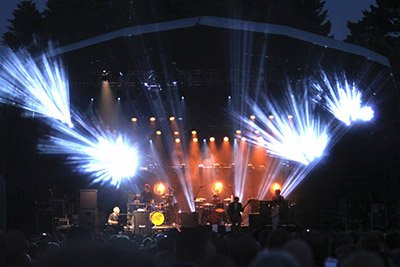 The metre long steel ground anchors are inserted into the ground and when in position leave only an eyelet left showing to which the screen support structures are securely strapped down. No tele-handler is required.

Sangwell is very pleased with the results of this first outing for the support structures, "We would have needed 12 tonnes of ballast to make the supports stable otherwise – which would take a serious amount of handling and lots of extra time".

Fineline also supplied an 8 channel OB truck and a three camera PPU package for the IMAG relay to screens comprising three Sony D50 cameras, one positioned at FOH with a long lens, one in the pit and one hand-held onstage plus a remote pan / tilt head rigged down stage right. All four were fed into a Blackmagic ATEM 4K Production Studio and cut by Brian Corner.

The Warwick Castle spectacular is one of many summer event projects for Fineline which has already included supplying lighting to five arenas at Glastonbury Festival, the Eden Sessions and the main stage at Love Saves The Day festival in downtown Bristol.