28-04-2021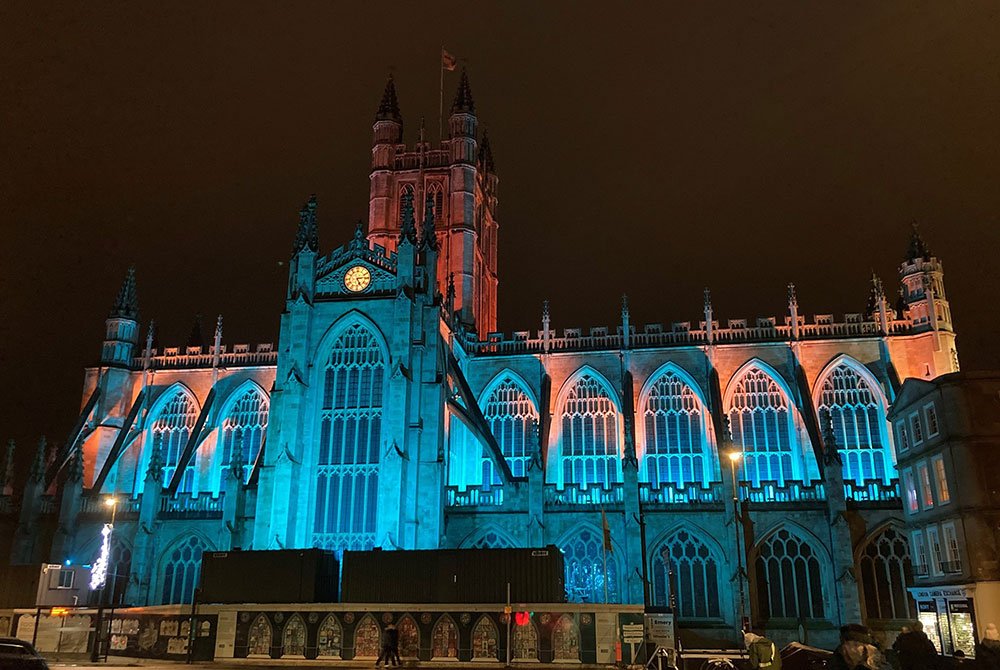 Background:

Traditionally, Bath has a flourishing and busy Christmas market, bringing 400,000 people into the town over two weeks, but last year, Covid restrictions meant that it couldn't take place. Visit Bath and Bath Business Improvement District (BathBID) wanted to create a Christmas light trail to bring the festivities to the town centre and across the BID area of the town.

Challenges:

"Over the past five years we have been developing Bath Christmas Market into more of an event by bringing in sound, lighting and building a great atmosphere. Our original idea was to create a smaller Christmas Market, but as the Covid restrictions were changing regularly, our plans were in constant flux. We realised that we couldn't create the chalets, the staging or have music, but the one thing that we could still do was use lighting so the decision to create additional illuminations was made," said Mick Heath, Head of Events for Visit Bath.

"The funding for the Christmas Illuminations would usually have come from the proceeds from the Christmas market, but as it was not taking place this year, we approached BathBID and they funded the project and suggested a light trail. The brief was to bring light and festivities into the whole town, and to light as much of the BID area as possible, whilst sticking to the budget available," continues Heath. "One of the benefits of just using lighting was that the trail could also carry on throughout the festive period - well after the market would normally have closed in the middle of December."

"Much of Bath is a World Heritage Site but the venues that we worked with were really keen to be involved - especially the Abbey who have a very forward-thinking approach towards supporting community events," says Heath. The practicalities were harder to implement because the use of machinery such as cherry pickers would be limited, and permission would be needed to decorate certain areas. "We needed to work with a company who was adaptable, creative and able to guide us on what would deliver us the biggest impact for our budget," explains Heath.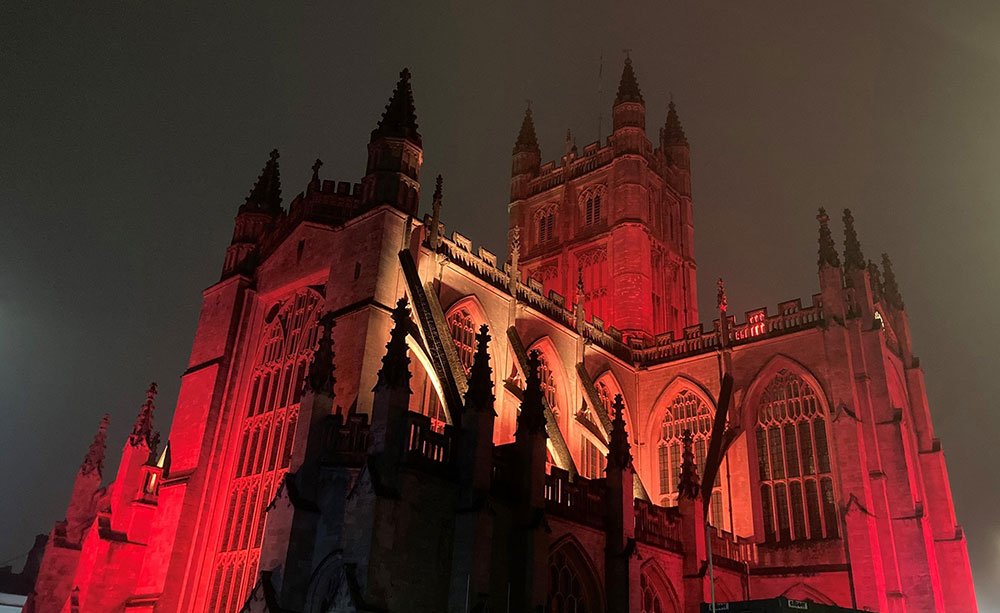 Solution:

BathBID and Visit Bath appointed Fineline to design and install lighting across the town.

"Time scales were tight, so we quickly assessed the area and focused on the buildings and spaces we were confident that we could light with ease," said Rob Sangwell, Managing Director of Fineline. "BathBID and Visit Bath were great to work with; they worked hard to secure all of the permissions needed and they trusted us to create the designs and lighting solutions that delivered the most impact, across the most area for the budget available."

The Abbey is the biggest building in the town centre, and can be seen from multiple sites so that naturally became the focal point. "The Abbey has vaulted cellars which could be damaged with heavy machinery, so we couldn't use a cherry picker to lift us and the equipment on to the roof," continues Sangwell. "The building has eight roofs and spiral staircases in each corner, so everything had to be carried up on foot; I estimate that the team went up and down those staircases over 100 times!"

The Bath Mineral Water Hospital was lit in blue in honour of the NHS, with Christmas gobo patterns, and the Old Tourist Information Office was decorated with bold colours and a giant snowflake.

"There is a big tree on Abbey Green that is protected and consequently it's been very hard to decorate in the past. We worked considerately and with permissions and so we were able to make it look stunning. Northumberland Place was also decorated with colourful sparkly projections, along with St Swithin's Church, the Roman Baths and the trees by the Podium Shopping Centre," continues Sangwell.

"By creating a colour pallet with big and bright colour combinations that were vibrant and bold, we illuminated the iconic buildings of Bath and made them stunning and eye catching," says Sangwell. "We considered how the buildings looked from different angles and how different aspects were viewed from different parts of the town to ensure that the lights could be enjoyed from multiple vantage points."

"We worked with social distancing measures in place to ensure that we kept the team and the public safe. We approached unloading differently, changing some of the delivery methods, and working out one-way routes for tall and narrow staircases. We took everything 'back to basics'; working this way needed a bit more planning, a few early mornings and late nights and lots of ladder work, but it was totally manageable and straightforward."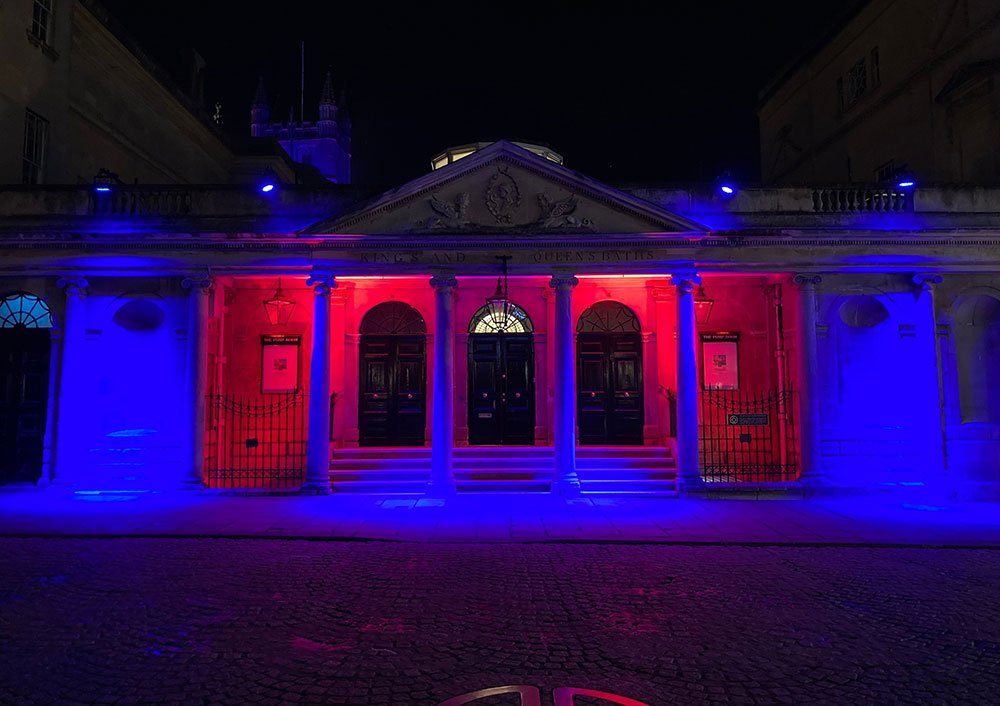 Verdict:

"The spirit of community was really apparent throughout the venues - with everyone wanting to get on board and make the trail happen. The whole community came together and the ''blitz spirit' was experienced by us all," says Heath. "With Rob leading the project, his professionalism ensured that all the venues felt very confident about putting their trust in him and his team. His team were enthusiastic and took pride and passion in their work."

"Even from the very first evening, the atmosphere in the city was just magical. People were standing and staring, taking photos and posting all over social media because we had created such a positive feeling and an uplift in spirits. It was rather emotional to see the city shine through after such an awful year," concludes Heath. "The legacy of this project is that we can never go back to the lights that we had before and we are already working with Rob and his team to plan out a bigger and brighter Bath Christmas experience for 2021."
30-11-2020
Fineline have been busy in our home city of Bath, providing a splash of colour to our beautiful buildings, bringing some cheer during the festive period.
We are very proud to take part in this fantastic project, Bath Christmas Light Trail, very thankful for having the opportunity to get involved.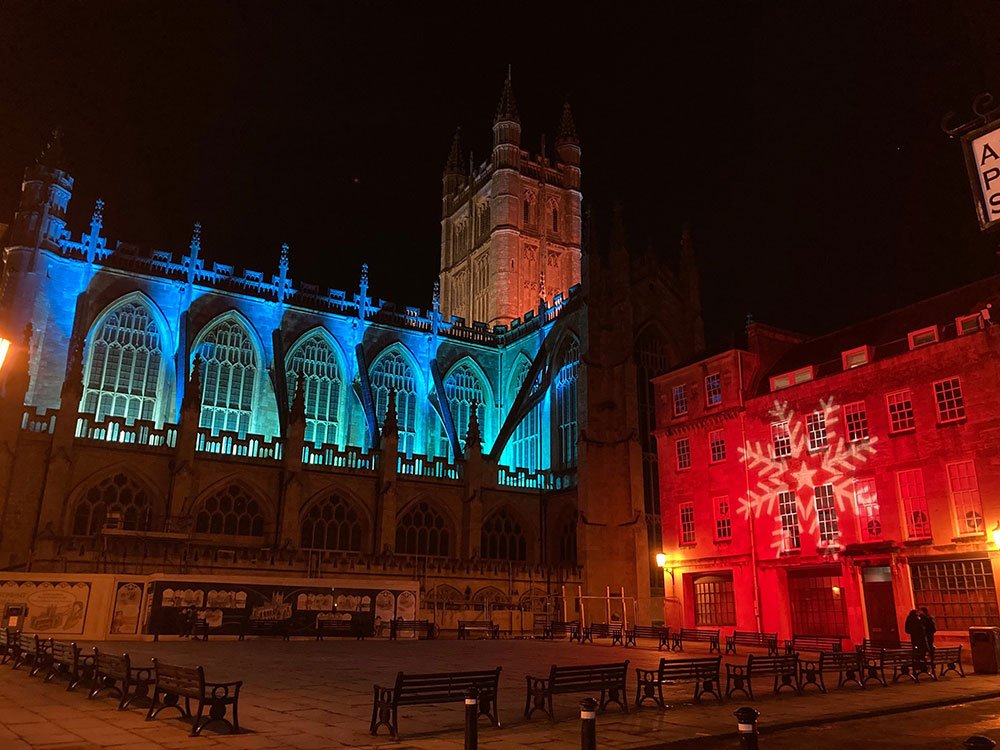 27-11-2020
It's been great to be back on the road and supporting our local Clevedon BID who we are part of. Alexandra Park is currently lit to create an outdoor environment for people to enjoy.